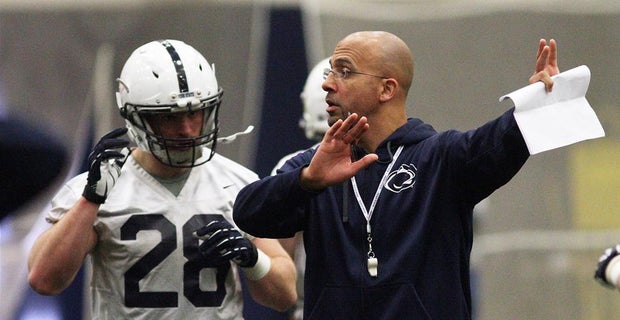 Florida State's coaching search is in its third week.
Administration has thoroughly vetted various candidates up to this point and has negotiated with Bob Stoops. Outside of those two tidbits, those involved with the coaching search have played things close to the vest.
James Franklin on Penn State is someone FSU targeted during its last coaching search, and he's only further solidified himself as one of the top candidates in college football since then.
Here's what you need to know about Franklin…
Career Record
Vanderbilt (2011-13): 24–15
Penn State (2014-Present): 54–22
Overall: 78-37 (0.678)
Path
Franklin went from a high school assistant, to the offensive coordinator of a team in the Danish American Football Federation before becoming an assistant at the college level.
He became the receivers coach at James Madison in 1997, moved on to Washington State as the tight ends coach in 1998, was Idaho State's receivers coach in 1999 and finally found stability as the receivers coach/recruiting coordinator at Maryland from 2000-04. With Franklin as the recruiting coordinator, Maryland climbed up to the No. 16 class nationally.
He caught on as the Green Bay Packers' receivers coach in 2005 before getting his first shot as a college offensive coordinator at Kansas State (2006-07). Franklin had a similar role at Maryland from 2008-10 before getting his shot as the Vanderbilt head coach.
Franklin won at a place that's difficult to do so, taking Vanderbilt to bowl games in three consecutive seasons. That doesn't happen at Vandy.
He turned his success at Vanderbilt into the job at Penn State. The Pennsylvania native has brought Penn State to the Rose Bowl and Fiesta Bowl in recent years, and currently has the Nittany Lions at 9-1 entering a pivotal game against undefeated Ohio State.
Philosophy/Style
Franklin preaches adaptability, self awareness and building relationships.
On offense, Franklin uses a modern RPO-based scheme that's heavy with its use of read-option. Penn State has featured some talented backs under Franklin (Saquon Barkley, Miles Sanders).
Recruiting Acumen
Penn State has recruited at a Top 15 level under Franklin, with its 2018 class finishing at No. 6 overall nationally.
Franklin has done well recruiting elite players from the Mid-Atlantic — a region that's been kind to FSU over the years — and has also typically brought in a couple players from Florida each class.
Coaching Tree
Some of Franklin's pupils — like Joe Moorehead (Mississippi State head coach) and Josh Gattis (Michigan O.C.) have moved up the coaching ranks.
The Appeal for FSU
Franklin won consistently at Vanderbilt and has managed a big-time program like Penn State at a high level. The ability to run an elite organization is obviously appealing for FSU.
His ability to assemble a top-tier staff and to recruit at a high level are intriguing attributes that make him one of the most qualified candidates on FSU's radar.
His buyout, at $1,000,000, isn't bad.
The Downside for FSU
Franklin checks a ton of boxes for FSU and there aren't any glaring negatives. He's never truly contended for a national championship, but he runs a brand program at a very high level.