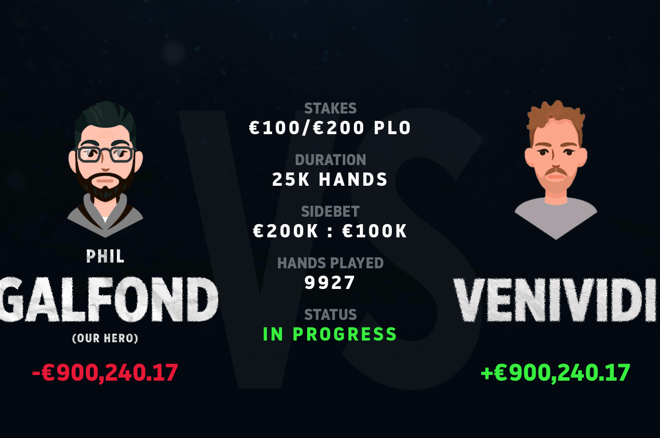 As the Galfond Challenge headed into its third full week, things kicked off with a Sunday session, the 15th of the heads-up pot-limit Omaha match between Run It Once Poker founder Phil Galfond and mystery challenger "Venividi1993".
Coming into the week stuck just shy of €800,000 across a little more than 9,000 hands, Galfond was looking to turn things around at least a little bit. Any decent win would serve to both eat into his losses and give hope to his legions of fans.
However, Venividi fed him another dose of six-figure losses on Sunday, running his win to more than €900,000 over the course of 9,927 of the planned 25,000 hands. That leaves Galfond on pace to lose about just short of €2.5 million when factoring in the side bet in which he laid Venividi 2-to-1.
A planned session for Tuesday was canceled, leaving many to wonder about the fate of the match. Galfond himself said on Twitter that he's still loving what he's doing and he has plenty of reason to continue to play Venividi despite the grim results so far.
Continue to monitor this space for updates on the match throughout the week.
Day 15
About 50 hands into the 15th session, Galfond found a dream spot to get his money in as he raised a turn bet from Venividi on
. Venividi responded by potting almost all in and Galfond decided to play for stacks with
for two pair and the nut flush draw. Venividi was in rough shape with
for a wrap and a pair, and Galfond filled up on the river for a €60K pot.
After peaking around +€60,000, Galfond shipped back a stack when he turned nines full of jacks, only for Venividi to check-call with trips, fill up on the river, and check-call Galfond's shove. Venividi grabbed another stack on a nasty beat when they got in on a board of
with Galfond holding the nuts and Venividi
. He found a king on the river and they went to break about square.
Galfond regained his lead with a hero call on a completed board of
. He potted river in position for €7,300 and Venividi shoved for Galfond's last €22K. Galfond used most of his time then called with an eight-high flush, with Venividi showing
for a bluff.
Galfond got back up about €60K but Venividi worked his way back into the black when each player flopped a set and the board ran out paired. Venividi check-raised all in with his kings full and Galfond couldn't find a fold with tens full. Venividi stacked Galfond again with top set against an overpair and a straight draw to go into the last break a €66K winner.
Venividi finished strong as well. He picked off an all-in bluff for a pot of €50K with trip kings on a board of
as Galfond shoved with
. Galfond recovered one stack check-raising all in with
on
. Venividi called with
but still booked another very solid six-figure win moments later.
Hands Played: 659
Results: Venividi1993 +€102,593.34
Full session video
Follow along with all the latest on the Galfond Challenge.
Finding a trustworthy room to play online poker can be a monumental burden. That's all the more true if you're just looking for a place to play poker for free. We've listed five of the best play-money poker sites to enjoy and help hone your skills.