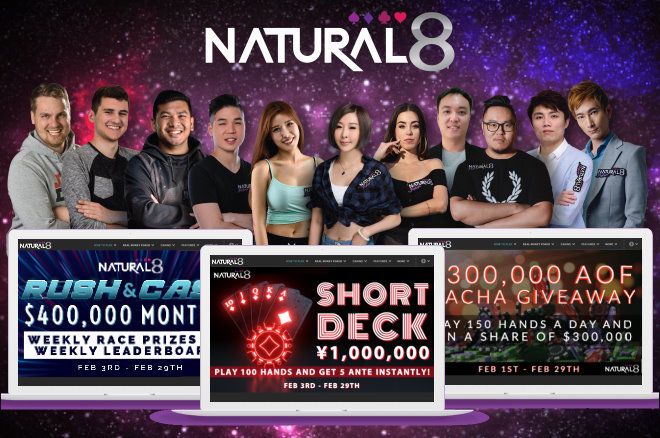 Natural8 will always be good for having a constant stream of promotions covering all game types. From network-wide to Natural8 Exclusive promotions, jackpots and leaderboards for cash games, plus massive online MTT series that caters players from low-stakes grinders to the major league high-rollers.
In the month of February, feast your eyes upon the following special promotions at Natural8.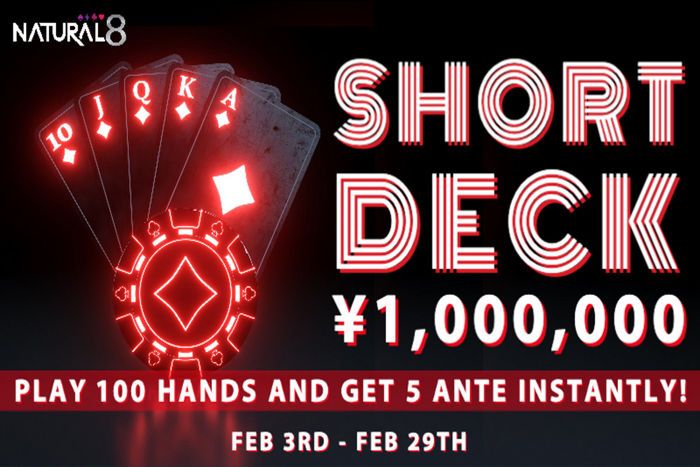 ¥1,000,000 Short Deck: Instant 5 Ante
Natural8 is kicking it up a notch for one of the most exciting poker games by rewarding players with 5 ante bonus on the spot! Simply play 100 hands of 6+ Short Deck Poker in a week and receive 5 ante. It is that easy, you play and we pay!
Antes at the Short Deck tables range from ¥1.00 ante to ¥100.00 ante. Each has its own respective weekly prize pool and a limited number of winners. So speed is of the essence, but take note that hands are only calculated for pots that are raked.
| Ante | Weekly Prize Pool | Prize (5 Ante) | Number of Winners |
| --- | --- | --- | --- |
| ¥100.00 | ¥70,000.00 | ¥500.00 | 140 |
| ¥50.00 | ¥60,000.00 | ¥250.00 | 240 |
| ¥20.00 | ¥55,000.00 | ¥100.00 | 550 |
| ¥5.00 | ¥40,000.00 | ¥25.00 | 1600 |
| ¥1.00 | ¥25,000.00 | ¥5.00 | 5000 |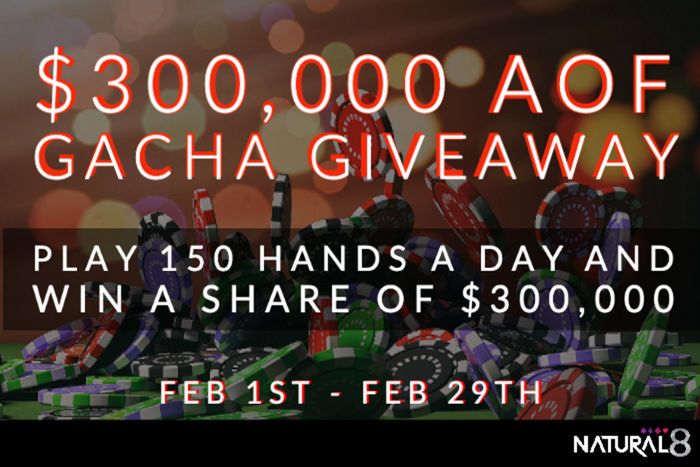 $300K All-In or Fold Gacha Giveaway
Remember the feeling when you were a kid and the surprise toy came down the "gumball machine"? The anticipation of cracking open the plastic ball to find out what treasure lies within is half the fun!
Natural8 has a whole whack of prizes up for grabs in this all-new $300K All-In or Fold Gacha giveaway. All you have to do to enter is play 150 hands in a single day at one of Natural8's All-In or Fold tables to qualify for the next day's freerolls.
To ramp up the excitement, the prizes awarded in each AoF Gacha tournament will be completely random. That essentially means you're not guaranteed the best prize even if you were to finish in first place. So who knows how big of a surprise you'll get – you'll have to play to find out!
More than $10K in Gacha prizes are given out every day, for a total of $300,000 for the month. Four freerolls run daily with each one corresponding to the different stakes. As long as you play 150 hands at each level, you can qualify for and play all of them! Earning you a better chance in claiming your share of the $300K in cash, tournament dollars and even tickets to the prestigious N8GG Masters Event.
Stakes at the AOF tables range from a buyin of $2 all the way up to $1000, and there are AOF tables for both Hold'em and Omaha. Only hands with 3 or more active players are counted.
| Tournament Time (UTC+0) | Tournament Name | Hand Count Section | Prize Pool |
| --- | --- | --- | --- |
| 00:15 | AoF Gacha Giveaway | 1 ($5/$10) | $4,500 |
| 00:15 | AoF Gacha Giveaway | 2 ($4/$8 , $2/$4) | $3,200 |
| 00:15 | AoF Gacha Giveaway | 3 ($1/$2 , $0.5/$1) | $2,000 |
| 00:15 | AoF Gacha Giveaway | 4 ($0.25/$0.5 , $0.1/$0.25) | $700 |
$400,000 Rush & Cash Weekly Race
The Rush & Cash promotion at Natural8 just got another $25K boost this month. That means more prizes to be won!
Every week, $100,000 in prizes will be split across four stake level leaderboards — from the grinders at micros of $0.01/$0.02 up to the deeper end of the pool at $1/$2. Hit the Rush & Cash tables all month long, the more you play, the bigger the prizes you can claim!
Points are earned every time you play a raked hand and are not based on the amount of rake generated by a player.
Any more goodies?
You can earn Double Points on Sundays!
50% Cash Drops at all Rush & Cash tables (50% rakeback distributed right at the tables)
Raked hands now generates Fish Buffet points, boosting your Fish Buffet spin cash rewards
Sponsor-generated content by Natural8
Finding a trustworthy room to play online poker can be a monumental burden. That's all the more true if you're just looking for a place to play poker for free. We've listed five of the best play-money poker sites to enjoy and help hone your skills.