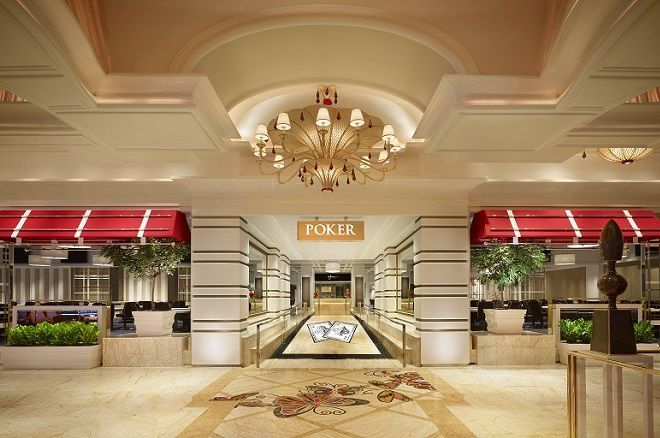 With the Wynn Spring Classic underway, the Wynn has wasted no time in announcing another exciting tournament series of single- and multi-day tournaments later this year.
The Wynn Signature Series runs from 20th April-6th May with almost $1 million in tournament guarantees over the course of the 13-event festival.
Four Six-Figure Guarantees
Poker players won't be left short-changed at the Wynn Signature Series with four multi-flight tournaments, each carrying a six-figure guarantee. The first event kicks off the festival with a $150,000 guarantee, with the first of three starting flights getting underway on 20th April.
Then, on the 30th April, there is the first of three flights in a $250,000 guaranteed tournament, with Day 2 scheduled for 3rd May. For $600 players will receive 20,000 in chips and play 40-minute levels.
There are two other $100,000 guaranteed tournaments, each with two starting flights set for the 27th April and the 4th May. Events with multiple flights will play day two at 12 p.m. on the day subsequent to the final flight.
No Shortage of Daily Action
In addition to these events, there is also no shortage of single-day events with plenty of No Limit Hold'em tournaments scheduled at the attractive $400 price point.
There are also $15,000 guaranteed Limit Omaha 8 or Better, $20,000 guaranteed Pot Limit Omaha and $25,000 guaranteed Seniors (50+) No Limit Hold'em tournaments scheduled during the festival.
Wynn Signature Series Full Schedule
| Date | Time | Event | Guarantee | Entry | Chips | Levels |
| --- | --- | --- | --- | --- | --- | --- |
| 20th April | 12 p.m. | No Limit Hold'em Day 1a | $150,000 | $360+40 | 20,000 | 40 |
| 21st April | 12 p.m. | No Limit Hold'em Day 1b | $150,000 | $360+40 | 20,000 | 40 |
| 22nd April | 12 p.m. | No Limit Hold'em Day 1c | $150,000 | $360+40 | 20,000 | 40 |
| 23rd April | 12 p.m. | No Limit Hold'em | $40,000 | $360+40 | 20,000 | 30 |
| 24th April | 12 p.m. | No Limit Hold'em | $40,000 | $360+40 | 20,000 | 30 |
| 25th April | 12 p.m. | No Limit Hold'em | $50,000 | $500+50 | 20,000 | 30 |
| 26th April | 12 p.m. | No Limit Hold'em | $40,000 | $360+40 | 20,000 | 30 |
| 27th April | 12 p.m. | No Limit Hold'em Day 1a | $100,000 | $360+40 | 20,000 | 40 |
| 28th April | 12 p.m. | No Limit Hold'em Day 1b | $100,000 | $360+40 | 20,000 | 40 |
| 29th April | 12 p.m. | No Limit Hold'em | $40,000 | $360+40 | 20,000 | 30 |
| 30th April | 11 a.m. | Limit Omaha Hi-Lo 8 or Better | $15,000 | $270+30 | 15,000 | 30 |
|   | 12 p.m. | No Limit Hold'em Day 1a | $250,000 | $545+55 | 20,000 | 40 |
| 1st May | 12 p.m. | No Limit Hold'em Day 1b | $250,000 | $545+55 | 20,000 | 40 |
|   | 4 p.m. | Pot Limit Omaha | $20,000 | $360+40 | 20,000 | 30 |
| 2nd May | 12 p.m. | No Limit Hold'em Day 1c | $250,000 | $545+55 | 20,000 | 40 |
| 3rd May | 12 p.m. | No Limit Hold'em | $40,000 | $360+40 | 20,000 | 30 |
| 4th May | 12 p.m. | No Limit Hold'em Day 1a | $100,000 | $360+40 | 20,000 | 40 |
| 5th May | 12 p.m. | No Limit Hold'em Day 1b | $100,000 | $360+40 | 20,000 | 40 |
| 6th May | 11 a.m. | Seniors (50+) No Limit Hold'em | $25,000 | $360+40 | 20,000 | 30 |
Recommended for you

Michael Rocco Wins 2019 Wynn Winter Classic Championship for $540,800